IBC/Drum Handling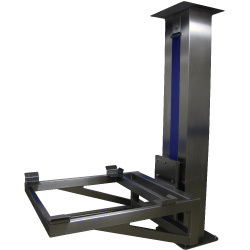 The Hanningfield Uni-Hoist Lift Systems are perfect for the lifting of containers such as IBCs, drums and bins.
The Uni-Hoist Lift Systems boasts a cGMP design which specifically considers the needs of the pharmaceutical, food, chemical and allied industries.
The Uni-Hoist operates as a fully automated valve docking system, and can demonstrate how efficiently it is possible to transport material in a stainless steel drum by automatically docking and undocking from the load and discharge positions, including a 180 degree drum invert.
The compact and versatile design makes it the ideal solution to process equipment and materials handling problems. It has been specially designed for use in areas where space is restricted. Uni-Hoist Lift Systems are already in use in many world-wide pharmaceutical installations.
Profile

The Uni-Hoist range of stainless steel lift systems provides the ideal solution for the lifting, turning and inverting of IBCs and drums. For example, the hoist does not use a hydraulic lifting mechanism, presenting a more hygienic operation.


Capable of lifting up to 1500kgs, the Uni-Hoist Lift System is suitable for almost any application and provides both a safe and reliable solution. The handling of an IBC or drum enables gravity discharge into a process machine, eliminating the need for vacuum conveying. The exclusion of this external interference creates a more hygienic process.

Lift arm attachments can be supplied for many applications to suit various types of equipment such as mixers, stainless steel drums, milling equipment, vacuum transfer hoppers and other equipment which requires safe positioning.
The

Uni-Hoist

Lift System is able to raise and lower process equipment for maintenance or cleaning, position hoppers for IBC loading by vacuum or gravity and safely raise and lower liquid mixers into process vessels.
Because every application is different, we can design and custom build to customers' exact requirements.
Manufacture is to cGMP standards in all stainless steel which ensures that it is low maintenance, hygienic and easy to clean.
The

Uni-Hoist

IBC/Drum Lift is designed and manufactured by Hanningfield Process Systems at their UK Headquarters.

Features

•Stainless steel construction
•Non-hydraulic lifting mechanism
•Fail safe design to protect operator and equipment in case of breakdown
•Hygienic, easy-clean design
•Mobile and stationary version available
•Lift, Invert and Rotate facility

Benefits

•Eliminates manual handling
•Increased productivity
•Increases hygiene and safety
•Easy clean design for minimum operational downtime

Technical Specifications

•Material of Construction: Stainless steel (304 or 316)
•Lifting Capacity: 1,500 kgs
•Explosion Protection: ATEX or Non-ATEX version available

Typical Applications

•

IBC lifting

, rotating and inverting
•

Drum lifting

, rotating and inverting
•IBC docking
•Tablet press loading
•Transfer - IBC to Capsule Filling Machine
•Transfer - IBC to IBC

Gallery
High Quality IBCs
Hanningfield have been designing and manufacturing contained material handling systems for more than 20 years.
Hanningfield are able to offer a wide range of high quality IBCs for storage, transport, blending, mixing and process interfacing. IBCs are designed to handle a variety of different products, including powders, flakes, granules, pellets, capsules and tablets.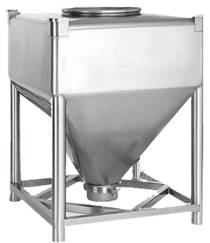 "Hanningfield supply a comprehensive range of high quality IBCs"

Materials handling systems are vital to the success of production processes in modern facilities. Correct design can have a significant impact upon efficiency and productivity, ultimately affecting profitability. Understanding the relationship between an IBC and the rest of the process is therefore extremely important.

Our expertise allows for simple integration with various other items of Hanningfield's product range. Some common applications are outlined below:
Integration with Hoists
Often IBCs are used for storing or transporting product. However, the process of unloading an IBC, or moving it to an alternative location can often prove problematic. Hanningfield's range of hoists can help overcome these problems by making the handling of IBCs more simple. One application is for the hoist to lift an IBC above another piece of equipment, allowing the outlet valve to be opened and transferring the product out of the IBC to a downstream process. Alternatively, the hoist can lift the IBC to an above floor, making processes more flexible and easier to manage.

Integration with Mills
IBCs can be positioned above a cone mill. The outlet valve on the IBC can then be opened to gravity feed the material from the IBC directly down through the cone mill.

Integration with Vacuum Conveyors
IBCs can be connected to vacuum conveyors to automatically empty the IBC, transferring the material to a downstream process machine.
Download Brochure:


Materials Handling (Hanningfield Uni-Hoist Lift Systems)
Case Study:


IBC Drum Lifting