Rotovalve Light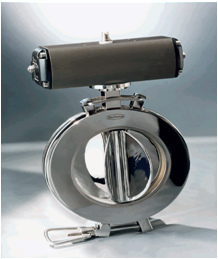 Light Duty Rotary Valves
The Rotovalve Light is the solution offered by Hanningfield to improve product flow and build-ups in the download phase. The alternating movement of the blades allows for a constant and regular feed, thus avoiding the incorrect mixing of the product.

The Rotovalve Light is the ideal solution for loading powder into compression machines, fillers, mills and weighing stations.
Thanks to its compartmented design, the
Rotovalve Light
is a volumetric dosage system of the product in the process phase.
Profile

The special clamp that is supplied with the valve (quick open versions) makes it more ergonomic and sterile.
The Rotovalve Light is also available with a stainless steel control panel to set up rotor stops and speed revolution.

The Rotovalve Light is also part of the modular system offered by Hanningfield. This system allows the interchangeability of all the components pertaining to the range of sanitary valves.

The

Rotovalve Light

is also available with a stainless steel control panel to set up rotor stops and speed revolution.

Features & Benefits


- Easy Clean Hygienic Design
- Modular Construction
- Compact Dimensions
- 316L Stainless Steel Contact Parts
- Optional Pneumatic Actuation
- Various Gasket Material Options

Technical Specifications

- Valve body in stainless steel 1.4404 (AISI 316L) or in advanced plastic FDA approved
- Silicone coated disc, FDA approved (CFR 177.2600)
- Gasket in silicone, EPDM, FKM (Viton®) or PTFE: All elastomers are FDA approved (CFR 177.2600) PTFE bushings
- All Components in stainless steel EN 1.4301 (AISI 304)
- Finish: inside high polish [Ra < 0,1 microns], outside satin [Ra < 0,8 microns]
- Drive: handle or rotary pneumatic actuator

Process Valves Series

Sterivalve (Hygienic Butterfly Valves)

Sterisplit (Split Butterfly Valves)

Flexivalve (Flexible Vane Valves)

Rotavalve Light (Light Duty Rotary Valve)

Rotavalve Heavy (Heavy Duty Rotary Valves)

Gallery
Download Brochure:


Light Duty Rotary Valves (Rotovalve Light)