Uni-Vac (V-30)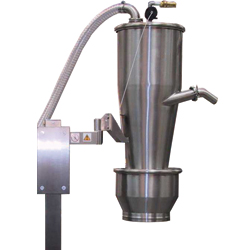 Vacuum Conveying System
The Uni-Vac vacuum conveying system from Hanningfield Process Systems provides a safe, practical and dust-free method of conveying powder, granules and flakes without waste.

The Uni-Vac V-30 is a Hanningfield vacuum conveyor with a capacity of 30 litres and a throughput up to 2000 kgs/hr.
Vacuum conveying provides cost-effective automation that improves production, reduces contamination and creates a clean and safer working environment. Powder spillage, airborne dust and the common problems associated with manual feeding are eliminated.

The conveyor is designed for applications with fairly standard industry requirements. The handling of heavy drums, kegs, bags, etc. are all eliminated by using a Uni-Vac system.
Vacuum conveying systems are the perfect solution for the transfer of powder in the pharmaceutical, food, chemical and allied industries. Through conveying, a process can take advantage of improved output and a cleaner, safer working environment.

Profile

The

Uni-Vac V-30

is is the Hanningfield vacuum conveyor for applications where the specification is relatively standard in terms of both throughput and bulk density. The capacity of the hopper is 30 litres and the throughput is up to 2000 kgs/hr.


The Hanningfield Uni-Vac offers many advantages, such as an easy clean design; the hopper can be completely dismantled without the need for tools. The system also boasts remote controls, a hygienic crevice free design and design flexibility.

The

Uni-Vac

is easy to use, clean and maintain. It improves production, reduces manual handling and operator fatigue. The conveyors are manufactured from 304 or 316 stainless steel and can be either static or mobile dependent upon preference.
All internal surfaces are crack and crevice free, the surface finish is to customer requirements. All connections are "quick-release" type, enabling easy dismantling and access to internal parts.
The

Uni-Vac

is designed and manufactured by Hanningfield Process Systems at their UK Headquarters.

Features

•Easy clean design
•Hygienic crevice free
•Stainless steel construction (304 or 316)
•No tools required for disassembly
•Remotely located controls
•Flexible modular design
•Mobile or static versions available

Benefits

•High return on investment through increased productivity and lower product loss
•Improved working environment
•Increased output and efficiency through automation
•Improved dust free environment through containment
•Minimal risk of contamination
•Reduces product loss
•Increased process safety
•Reduced operator fatigue
•Easy to clean design for minimal operational downtime

Technical Specifications

•Throughput: Up to 2000 kgs/hr
•Volume: 100 litres
•Material of Construction: Stainless steel (304 or 316)
•Height: 1700mm
•Diameter: 450mm
•Pick-Up Method: Vacuum wand, IBC, sacktip station, feedbin, big bag, etc.
•Controls: Control panel can be attached or remotely located
•Version: Mobile or static versions available
•Explosion Protection: ATEX or Non-ATEX version available

Typical Applications

•Unloading storage containers (IBCs, big bags etc.)
•Fluid bed dryer unloading
•Mixer loading
•IBC loading
•Conveying powder through a conical screen mill for in-line milling
•Conveying to a tablet compression machine
•Conveying to a capsule filling machine

Gallery
What is Vacuum Powder Conveying?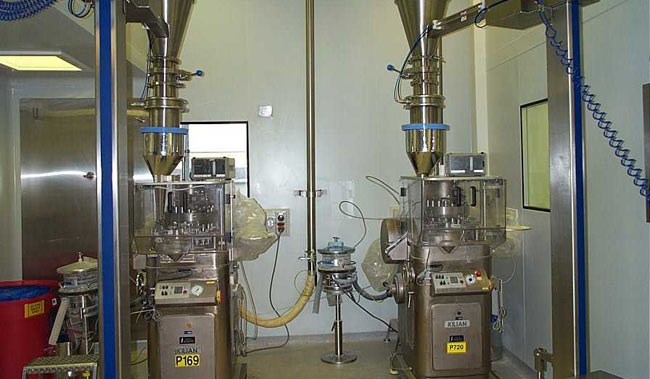 Vacuum Conveying
, also known as
Pneumatic Powder Conveying
, is a method of transferring powder in a fully contained and sterile manner. Powder can be automatically transported upstream or downstream via smooth-bore pipe work. This simple automation makes pneumatic conveying perfect for the secure transfer of bulk materials in the pharmaceutical industry.
Benefits of Vacuum Conveying in Pharmaceutical Processing
Vacuum conveying is an extremely hygienic and efficient method of transferring powders. This makes it perfect for the pharmaceutical industry as it helps improve safety, whilst also increasing productivity. Pneumatic powder conveying eliminates the need for the manual handling of hazardous powders, whilst also being able to charge up to 4,000 kgs/hr (8,800 lbs) to a downstream process.

For example, powder can be sucked directly from an IBC, into the conveyor, and then transferred from the conveyor to the required destination, such as a tablet press, cone mill or filling machine. In this regard the conveyor acts as a temporary storage container, holding the process material until it is ready to be dumped or loaded into the process machine. This allows the process of pneumatic powder conveying to be carefully controlled, as the throughput can be moderated in accordance with each customer's individual requirements.
Vacuum Conveying: Conclusions
The Vacuum (pneumatic) transfer of powder is perfectly suited to the pharmaceutical industry. The ability to quickly and safely control the movement of powder makes powder conveying a best practice solution. Hanningfield have over 20 years experience with pneumatic powder conveying in the pharmaceutical industry, and would be please to share this knowledge to help improve your process.
Download Brochure:

Vacuum Conveying Systems (Uni-Vac Series)
Case Study:


Vacuum Conveying