Flexivalve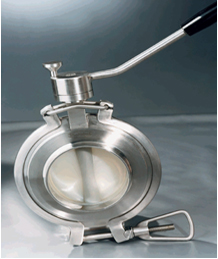 Flexible Vane Valves
The interception and control of fragile products such as capsules and tablets, pearl drops or plugs made of rubber or silicone, does not allow for the use of traditional butterfly valves, as these products may be damaged when the valve is opened and closed.
For this application Hanningfield offers the Flexivalve, a special butterfly valve with a flexible silicone coated disc and a soft seat that permits the interception and isolation of the product flow without any damage.
The special clamp that is supplied with the valve (quick open versions) makes it more ergonomic, sterile and easy to assemble. The
Flexivalve
is also a part of the modular system offered by
Hanningfield
. This system allows the interchangeability of all the components pertaining to the range of sanitary valves.
Profile

The control of fragile products such as capsules and tablets, pearl drops or plugs made of rubber or silicone, does not allow for the use of traditional butterfly valves, as these products may be damaged when the valve is opened and closed.

For these applications, the

Flexivalve

is recommended. The

Flexivalve

is a special butterfly valve with a flexible silicone coated disc and a soft seat that permits the control and isolation of the product flow without damage.
A special clamp is supplied with the valve, making it more ergonomic and easy to dissemble.

Features & Benefits


- Easy Clean Hygienic Design
- Modular Construction
- Compact Dimensions
- 316L Stainless Steel Contact Parts
- Optional Pneumatic Actuation
- Various Gasket Material Options

Technical Specifications

- Valve body in stainless steel 1.4404 (AISI 316L) or in advanced plastic FDA approved
- Silicone coated disc, FDA approved (CFR 177.2600)
- Gasket in silicone, EPDM, FKM (Viton®) or PTFE: All elastomers are FDA approved (CFR 177.2600) PTFE bushings
- All Components in stainless steel EN 1.4301 (AISI 304)
- Finish: inside high polish [Ra < 0,1 microns], outside satin [Ra < 0,8 microns]
- Drive: handle or rotary pneumatic actuator

Process Valves Series

Sterivalve (Hygienic Butterfly Valves)

Sterisplit (Split Butterfly Valves)

Flexivalve (Flexible Vane Valves)

Rotavalve Light (Light Duty Rotary Valve)

Rotavalve HD (Heavy Duty Rotary Valves)

Gallery
Download Brochure:


Flexible Vane Valves (Flexivalve)